Big Apple rain showers flood the Fifth Avenue Apple Store
30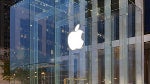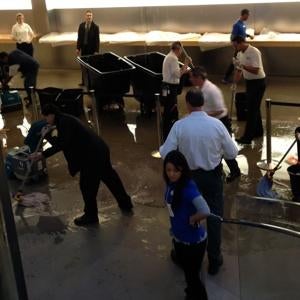 Workers mop up at the Fifth Avenue Apple Store following a flood
Construction performed last year on the roof of the Apple Store on New York's Fifth Avenue helped turn a rain shower in the Big Apple, into a flood that threatened the Apple iPhone and Apple iPad models in the store. The flooding took place early in the morning while the store, which is open 24 hours a day, 7 days a week, contained about 15 customers.
The flood started at 8am and by 10am, most of the store had been mopped up with the exception of a 40 to 45 foot section which was roped off. Despite the flooding, the store never closed as workers scrambled to cover up the electronics. At one end of the store, a long table with Apple iPads was
covered with plastic
to protect the slates from getting ruined.
One employee at the store complained that the repairs made last year to the store's roof were done incorrectly and the flooding on Wednesday was the direct result of that construction.
"I was down there at 5:45am because I had trouble backing up my computer and everyone started yelling. There was a leak then--boom--the whole thing opened up out of the ceiling. Then everyone started scrambling, moving tables...It didn't look like there were any electrical issues otherwise they would have evacuated the store."-Errol Rappaport, Apple Store customer
source:
NewYorkPost