Bicyclists in California might continue to face cell phone ban if a bill is extended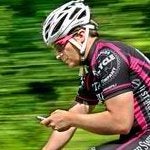 As the nation continues to embrace cell phone bans while operating moving vehicles, some states have already imposed bills that seemingly extend the ban to bicyclists.
In
California
last year, the
state passed a bill
that dishes out fines to bicyclists caught using their cell phones – much like any motorists out there. However, lawmakers in the state are now trying to extend the same bill for another
3 years
, but this time around, the fines associated with it would be slightly lower. Essentially, first time offenders will be slapped with a
$20 fine
, but then it would go up to
$50
for each subsequent violation.
Apparently, it seems as though the ban is making some headway seeing that a survey conducted by the Automobile Club of Southern California found that 60 percent fewer drivers use their devices since the law went into effect in 2008. Albeit, it's still not yet known how it's affecting bicyclists – but nonetheless, it'll make anyone think twice about it.
via
Textually
&
KTLA News