Bezel-less new ZTE Nubia Z9 handset pictured?
17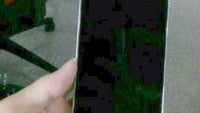 If these leaked photos are genuine, then it seems ZTE went on a vendetta against the screen bezel. We can't be 100% convinced, but the smartphone pictured sure looks like a ZTE Nubia phone, which stands for the Chinese manufacturer's premium line of handsets. They are distinguished by white color and a circular red home button.
Sources close to the matter claim that this is the unannounced ZTE Nubia Z9. It is said this is a flagship device loaded with a Snapdragon 805 quad-core processor, 3GB RAM, a 1080p display, and an OIS-enabled camera. The phone
appears practically border-less
at the sides, which gives it a very attractive look. You can still catch a faint glimpse of a bezel, of course, but it's practically not even there.