Beware of dragons! Heroes of Dragon Age out globally on iOS and Android
4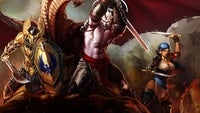 If you happen to love both card games and Dragon Age, this might be the day you were waiting for! Following a limited launch in mid-October, the sum of the aforementioned two parts - Heroes of Dragon Age - is out now for iOS and Android devices worldwide. Published by Electronic Arts, the fantasy game is currently free to play. And, although it offers a selection of in-app purchases, these can be disabled on your whim. Meanwhile, everything inside the game universe will remain attainable for free.
Heroes of Dragon Age lets players purchase and collect 3D figures of key characters from the Dragon Age universe, form them into a squad, and then battle human and AI-controlled foes. The game functions as a squad-based strategy game, with the battles played out automatically and the outcome dependent on what your team is made of. Each of the 10 available quests in the single-player format is self-contained and lets players re-experience key moments from not just the previous Dragon Age games, but also the novels, codex entries and more. The game features detailed character animations and graphics specially optimized for tablets.
The game is compatible with iOS devices running version 5.0 or later, and devices with Android 2.3.3 and up. It requires at least 480MB of free space on your device. With install numbers ranging between 100 000 and 500 000, it's already very popular among Android gamers, and it seems to have a big future ahead of it. Developer Capital Games predicts that the game will be supported for at least a year after release, perhaps even several years, with new characters and features continually added.