Between iPhone 5, Galaxy S III and Lumia 920, AT&T racks up its smartphone sales targets
10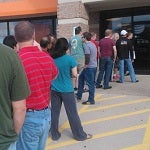 Buoyed by extraordinarily strong demand for smartphones this holiday season, AT&T made the rare step to change its 2012 sales forecast mid-flight, and announce it is upping the predicted 25 million smartphone sales to 26 million now.
It might not sound as a wild estimate raise, but by the time we hit earnings, these usually turn out to be conservative numbers, since the market loves positive surprises, as those keep investors happy for at least a quarter.
CEO Ralph de la Vega said at an investor conference "traffic in stores had been strong", divulging that AT&T has so far sold 6.4 million units just for October and November alone. Of note is that the new subscribers also bought larger than expected data packages, which will add to revenue for the quarter even further. Time to load up on those AT&T January call options, people, if the country isn't into fiscal cliffdiving mode by then.