Best-selling handset award stripped away from the RAZR
19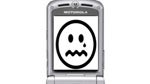 We never thought we would see the day. According to a report released by NPD, Apple's iPhone 3G has replaced the ever-popular RAZR and its many variants as the highest selling consumer device. For the first time, the typical 'phone' form factor has been sidelined for a data-centric device, showing a dramatic shift in the way that individuals use their phones. Thanks to an aggressive marketing campaign by Apple, the company rose to defeat RIM as the number two smartphone vendor, and has formally passed Motorola for the number one spot in consumer sales, even as overall consumer mobile phone purchases declined by 15 percent year-over-year. The most popular brand remains to be LG, however with (what seems to be) the current shift to the iPhone, we wouldn't be too surprised to see that change to Apple at some point.
The other popular devices include the V3, the Curve and a couple of LG phones with QWERTY keyboards.
"The top handset models in rank order, based on unit sales in Q3, were as follows:
1. Apple iPhone 3G
2. Motorola RAZR V3 (all models)
3. RIM Blackberry Curve (all models)
4. LG Rumor
5. LG enV2"
source:
EngadgetMobile