Best cell phone car chargers with Quick Charge output for your Galaxy S7, HTC 10 or LG G5
6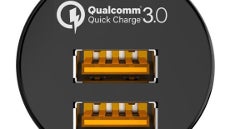 Fancy a long roadtrip without your cell phone? Nah, we didn't think so either. From free navigation, through keeping in touch, to playing music via the Bluetooth system in your car, a phone is as indispensable for a roadtrip nowadays as the car you drive itself. The bad part? All of your electrons are belong to us, and your phone will barely last a day or two at the maximum with all that screen-on navigation, notifications barrage, or music streaming going on at all times.
The solution? A simple car charger or an external power bank would do. The car charger is, of course, the cheaper option, and your car is a constant sort of electricity anyway, so why not spend a few bucks on a car charger, and have your phone being juiced up constantly while on the road? All chargers are not created equal, though, and some have more powerful and stable output than the others, so we are rounding up some of the best
Quick Charge
-compatible cell phone or tablet charging gear you can now get to carry in your car at all times.