Best Sony Xperia Z5 cases available right now
7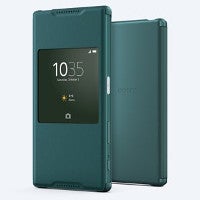 While
Sony's Xperia Z5
will not be made available until some time into October, a number of accessories have already been available for it. If you like playing it safe, it might be a good idea to get one ahead of purchasing the actual smartphone, as drops do happen (and more often than any of us would like).
Admittedly, the range is still rather modest. But though this will change in the months to come, the truth is that third-party accessories makers are typically a bit reserved when it comes to investing into Sony Xperia-compatible portfolios of cases and such. Still, we fully expect to have to come back in the near future to add a few more cool additions to the list we've curated below. These are the best we could find already available, and thankfully, pricing ranges from affordable to kind of expensive.
Sony
While Sony's official Style Cove Window case is not yet available for purchase on its site,
third-parties already carry it
, and so we know you'll be set back about $50 (depending on where you live). As the name suggests, this official case is of the wallet type, so it will protect both the front and back of your Xperia Z5, without barring access to essential parts of the device — such as buttons and ports. The case is also IP5/8-certified, meaning that it won't be damaged if submerged under water. Lastly, the scratch-resistant window up front allows you to interact with your Xperia Z5 without having to remove the door first.
KuGi
Available for just $6.40 (shipping not included)
, KuGi's hard cover, slim case for the Sony Xperia Z5 is among the cheapest options you can get your hands on right now. The case won't protect the front of your device — you'll still want a display protector — but will take care of the rear and the sides, while still allowing access to the fingerprint scanner, buttons, and ports.
Terrapin
If you're not big on hard cover cases,
Terrapin's equally as affordable, $7.45 case
may be what you're looking for. Made out of Thermoplastic polyurethane (also know as simply TPU), Terrapin's case offers a softer (to the touch) solution that will still protect your Xperia Z5 from scratches and scuffs at the back. That said, it'll probably prove inferior to KuGi's product when talking drop protection. Your call.
OEAGO
Dig multi-functional cases? OEAGO's rubberized case offers both excellent protection against scratches and accidental drops, and a retractable kickstand that you can make use of on any surface in order to watch video content hands-free. Plus, there's an included stylus in the package.
The case costs $7.99
and comes in a number of colors, including neon green/yellow, purple, red, along with black and white.
3C-Aone
At $12.99, 3C-Aone's case for the Sony Xperia Z5
is slightly more expensive than the previous three offers, but makes up for it with some snazzy finishes in matte. The back is frosted and thus highly resistant to fingerprints and smudges, and it fits snuggly, offering minimum extra bulk whilst protecting your prized smartphone.
Fettion
When you dole out hundreds of dollars for a smartphone, it's probably a good idea to invest some money into the case you pair with it. And yet, day in and day out, we see people using cheap cases for their otherwise high-end smartphones. Some people just don't like spending a lot on essentials such as cases and display protectors.
Robot Minions
Available for $6.98, the collection includes some pretty cool graphics that will stand out in a crowd of boring cases. The wallet case also sports a number of pockets for storing credit cards and the like, and can transform into a kickstand for watching movies.