Best Buy to sell iPads at all stores as tablets tackle the holidays
0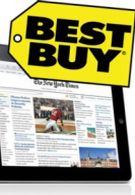 Tablets like the
Apple iPad
and the
Samsung Galaxy Tab
will be among the hot gift items for this holiday, and Best Buy is not going to miss out on that action. CEO Brian Dunn announced that all of the store's 1,093 US locations will stock the iPad starting September 26th.
Dunn appears to have partaken in the tablet Kool-Aid, as he touted the tablet to reporters. "We see the iPad as the magnificent shining light in what will become a whole new category, and that is tablets," said Dunn. With that possibly exaggerated endorsement, Best Buy seems to be gearing up for a great deal of holiday interest. The tablet-fever has spread to other retailers like Target, which is also planning to sell the iPad starting on October 3rd.
The iPad will have a significant advantage going into the season based on its name recognition and brand following, but will still face fierce competition from new Android-based devices. Obviously, as a third party, Best Buy stands to gain either way, even as the CEO said that tablet sales would cut in to the netbook market.
While potential netbook purchasers might turn to tablets, the netbook will still have its place. Many people have adapted to a virtual keyboard on their phones, but that doesn't mean they are prepared to do so for more typing-intensive projects that might be executed on your portable laptop/desktop alternative. (Prepare for riot-inducing opinion) Yes, there are obviously physical keyboards that connect to tablet devices, but carrying a keyboard around is pretty goofy compared to simply using a netbook. For most consumers' purposes, however, devices like the iPad will make a perfect holiday toy/tool.
source:
Yahoo!News