Best Buy selling Droid Incredible with new Super LCD screen and Android 2.2
This article contains unofficial information.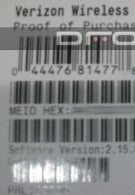 Remember when it was impossible to find the HTC Droid Incredible? According to conversations with store representatives, it is confirmed that the big box retailer now has in stock, the handset with its new Super LCD display for in-store sales only. When first launched by Verizon, the Droid Incredible was equipped with a 3.7 inch AMOLED screen. But with Samsung needing to use all of the AMOLED displays it could produce for the many different variants of the Galaxy S available, shortages of the phone developed which finally forced HTC to switch to Sony's Super LCD display. As we recently
reported
, the SCLD screens hold up extremely well against its competition. And because the new screen uses up less battery power than its predecessor, the Droid Incredible's quick dying battery problem could see an improvement.
The new model of the Droid Incredible also comes pre-installed with Android 2.2. This means that unlike the original unit, the device will have Adobe Flash Player 10.1 already downloaded on the phone. This upgraded version of the Droid Incredible joins the Motorola DROID 2 as the carrier's Android models that come out-of-the-box with Froyo and Flash Player 10.1. Best Buy is offering the handset for the original price of $199.99 with a signed 2 year contract. A $29.99 monthly data package is required.
source:
DROIDLIFE