Best Buy prices DROID 2 at the $199 Gold Standard contract price for high-end phones
This article contains unofficial information.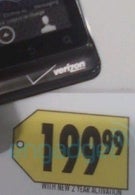 It's hard to put a price on something that technically does not exist. However, thanks to a leaked picture of a Best Buy Motorola DROID 2 display, we can see that the big box retailer will offer the sequel to the very popular DROID at the price of $199.99 with a 2 year contract. This is the same pricing level that we have seen most high-end smartphones sell for at launch such as the Motorola DROID X, the EVO 4G, the BlackBerry Torch 9800 and the 16GB Apple iPhone 4. Want the DROID 2, but don't want to get locked up for a couple of years? In that case, expect to pay $599.99 for the unit.
What is unusual is that Motorola and Verizon have yet to formerly introduce the model despite its appearance in the
carrier's summer phone guide
, leaked ads and
shipped accessories
for the device. Time is running out for an introduction if the August 12th launch date that we
reported
is legitimate. The DROID 2 improves upon the first-gen model by improving the QWERTY keyboard, putting a 1GHz processor under the hood, launching with Android 2.2, and offering a number of apps out of the box like Swype and Blockbuster On-Demand. Speaking of the original DROID, it is now listed as being "Out of Stock" on Big Red's web site.
Motorola DROID 2 A955 Preliminary Specifications
source:
Engadget