Best Buy issues correction notice over Nexus Prime, Galaxy Nexus conundrum
9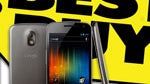 When Best Buy Mobile released its December Buyer's guide, there was a bit of confusion due to the fact that
one of the phones on the back cover was labeled "Samsung Nexus Prime."
Since the phone in question was
unveiled in Hong Kong
as the Samsung GALAXY Nexus, it seem that this was most likely some sort of mistake.
It turns out it was a mistake. Best Buy has issues a correction notice stating that the phone was incorrectly labeled as the Samsung Nexus Prime and the Samsung Nexus Prime 4G LTE.
The correct name is the Galaxy Nexus by Samsung – 4G LTE
. Best Buy also says that the device's status is "
Coming Soon
" and, therefore, is not currently available.
Best Buy also notes that the listing of the "
RezoundT by LG
" should have been written out as its official name of "
HTC RezoundT – 4G LTE
." We are assuming the 'T' is in place of the trademark symbol.
As with any adverting kerfuffle, Best Buy goes on to apologize for any confusion or inconvenience, or in layman's terms "
whoops
."
source:
Android Central