Best Buy head honcho Brian Dunn resigns from his post as CEO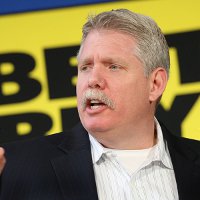 After reporting some dismal figures in its
latest earning reports
,
Best Buy
seems like they'll be fighting an uphill battle for the foreseeable future – trying desperately to keep up with the aggressive competition. For its CEO,
Brian Dunn
, who has held onto the position since taking over in June 2009, it has been nothing but a roller coaster ride. And seeing that things haven't been well with the retail giant, yet another bombshell unloaded today.
In what was mentioned as a
mutual decision
, Brian Dunn has resigned from his post as CEO of the nation's largest consumer electronics retailer. Interestingly enough, there wasn't any sort of disagreement regarding the matter – such as financial controls, policies, procedures, or operations. On the other hand, though, the company said that new change was needed in leadership to adapt to the challenges that the company is dealing head on.
Despite being Best Buy's CEO since 2009, Dunn, who is only 50, has actually been an employee for the company for over 28 years. In fact, he started out as a store associate, and eventually moving up the ranks, thus, leading up to his tenure as CEO. Currently, board member
Mike Mikan
will be taking over as interim CEO, as the company shops around for a new leader worthy enough to turn around the struggling company. With the news about Dunn's resignation, Best Buy's stocks is actually up over
2.3
%.
As we know, Best Buy announced closing 50 of its big box stores in the US – though, they still plan on opening approximately 100 small-format stores that'll focus on mobile devices and tablets. Of course, it'll be interesting to see how Best Buy as a whole will become an even more prevalent figure in the mobile landscape.
via
CNBC