Bend it like Samsung: 5.5" flexible HD screen on tap for CES 2013
25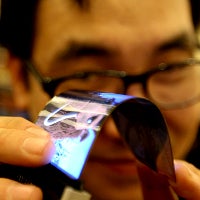 Samsung let us play with bendable OLED screens a couple of times at CES and other expos, but so far the best it could muster with a plastic substrate has been the
4.5" WVGA screen we were folding last year in Las Vegas
.
Not that we are belittling the flexible display achievements, but with today's rigid smartphone screens clocking HD or even Full HD resolutions for the high-end spectrum, the WVGA unit didn't stand much chance in that respect.
Enter CES 2013 in just two short weeks, where Samsung is said to showcase a 5.5" 1280x720 HD screen that can bend and do yoga exercises. Awesome, ain't it? The company will also reportedly bring a 55" flexible screen that is aimed for TVs and such, indicating that the work on actual devices with its bendy panels is progressing nicely.
Samsung had mentioned that the 5.5" yogi can bend until the edges meet, but can't be rolled, but since we can't roll the other electronics in a smartphone either, it's no biggie, just bring it to market in a handset already - at this size the HD resolution means 267ppi, which will be more than decent for a durable, flexible OLED display already.