Benchmark test displays that the G2 can excel in graphics just like the DROID X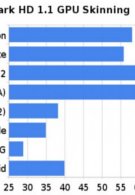 Some times you just can't base something solely by looking at the hardcore facts presented on paper when compared to its real-life performance. Case in point the upcoming T-Mobile G2 which some were surprised to find that it would pack a processor clocking in at 800MHz – something that's under the well-known threshold of 1GHz speeds we see all around. However, there was a recent benchmark test performed on the handset which provided some valuable results that will quell some of those concerned individuals out there.
Looking at the results listed from the GLBenchmaks test, you can see that the G2, T-Mobile's variant of the HTC Vision, was able to achieve a score close to some of the heavy hitters in Android right now. Placing in contention with devices like the Samsung Captivate, T-Mobile myTouch 3G Slide, and the Motorola DROID X & 2, the upcoming G2 looks to position itself as a healthy competitor in the graphics department.
Come to think about it, the handset is currently placed at a clock speed of 800MHz to provide the most optimal battery levels for the handset. Ultimately, it's going to come down to actual real world usage to see whether or not the G2 will indeed become the next Android powerhouse on the block.
T-Mobile G2 Specifications
via
Gizmodo