Beautiful Clock Widgets set hits the Play Store, lets you change that ugly clock with peppy designs
12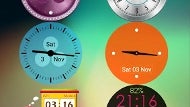 There is an abundance of clock, weather and battery widgets in the Play Store, including whole themed collection sets, but not a lot of them are aesthetically pleasing to say the least.
In fact, we can probably count on two hands the clock widgets that are well designed for the demanding Android crowd. The new Beautiful Clock Widgets set hit the Play Store the other day, and is already showing that it might rank with the best out there.
The designs are well-done and creative, there is a style for every taste, including some wacky decisions that are sure to keep your home screen entertained, and the widgets can also house your local weather info, battery percentage and so on. There were initial problems with the backend reading location info and battery status correct, which seem to have been fixed now, so you can give Beautiful Clock Widgets a try from the source link below. The coolest ones are, naturally, in the paid Pro version.