Beats co-founder Jimmy Iovine says Apple headphones are crap while sitting next to Apple's Eddy Cue
44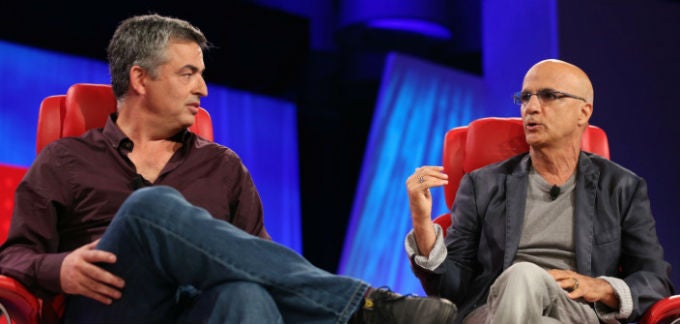 The announcement that Apple was buying Beats for
$3 billion
was still hanging in the air last night as Beats co-founder Jimmy Iovine and Apple's Eddy Cue took the stage at
Re/Code's
Code Conference, and the two wasted no time in making sure the buzz around the deal continued. But, the quote of the night came from Jimmy Iovine himself, talking about Apple's headphones.
Iovine essentially said that Apple's headphones are crap added to the package only "to make sure the machine works." He went on to be a bit more descriptive, saying "You listen to Apocalypse Now, and the helicopter sounds like a mosquito". Of course, Iovine also took a little time to credit his own company (somewhat hyperbolically, we think) by saying, "We turned an entire generation on to audio". That seems a bit extreme, but it is hard to argue with Beats' sales record, which some industry analysts have pegged at about $1 billion per year.
For his part, Apple's Eddy Cue was less buzz-worthy, but still had some good information to provide. He denied the idea that Apple bought Beats for the "cool" factor, and confirmed that the purchase was made for the talent (Dre and Iovine), the headphones, and the subscription service. Cue was very optimistic about the partnership (as you would expect from an Apple rep), saying that bringing together the two companies would create "something much more than" two plus two equaling four. But, Cue also couldn't help straying into the possibly hyperbolic by claiming that the Apple and Beats pairing would be able to help music grow again, changing the current downward trend in the industry.
No doubt, Apple and Beats will be a powerful pairing, but we'd prefer to wait and see before making bold claims like that.