Beat by the older sibling: people would rather buy the Galaxy Note 8 over the Note 9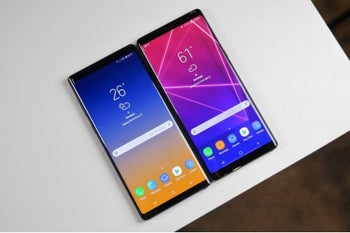 Samsung wasted no time and
slashed the price
of the
Galaxy Note 8
almost immediately after the Note 9's unveiling. You can now get last year's model for either $550, if you go with T-Mobile, or $600 if you opt for the Verizon version. In contrast, the brand-new
Galaxy Note 9
starts off at $999.
That's definitely a price difference to consider, especially when you have to really squint in order to tell the Note 9 apart from the Note 8! For almost twice the price, the
Galaxy Note 9
has a new Bluetooth-enabled S Pen, loud stereo speakers with the "Tuned by AKG" logo, a slightly upgraded camera, and a blood pressure sensor. Under the hood, it's powered by the latest-and-greatest Qualcomm Snapdragon 845, has 6 GB of RAM, and its storage space starts at 128 GB. But the Note 8 is absolutely no slouch, with a Snapdragon 835 of its own, 4 GB of RAM, pretty great cameras, and still-good performance.
We were curious — could the Note 8's crazy discounts cannibalize the Note 9's sales and... is it a good idea to sell the predecessor that crazy low?
Turns out a ton of people would rather go for last year's model. But, as some commenters pointed out — Samsung has some very generous Note 9 deals, like BOGO offers or mad price rebates for returning an old Note phone with your new purchase, so that's something to keep in mind!