Barnes & Noble Nook HD vs Amazon Kindle Fire vs Nexus 7: spec comparison
6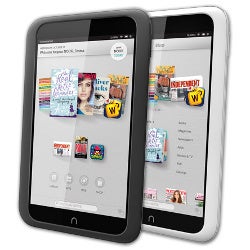 The
Barnes & Noble Nook HD and HD+
tablets have just arrived and if you're into the market for affordable tablets, these might be two of your favorite new devices. The Nook HD is a 7-inch tablet that takes the title of being the lightest out there and takes directly on the Amazon Kindle Fire HD and the Google Nexus 7.
The Nook HD+ is a larger, 9-inch device that's also very lightweight and affordable, and still coming with a high-res display. It faces the 8.9-inch Kindle Fire HD in a direct battle.
Both new Nooks come heavily entrenched in the B&N ecosystem, with a build of Android you'd find hard to recognize was originally Ice Cream Sandwich. That's what makes them eerily similar to the equally heavily skinned Amazon Kindle Fire devices, but puts them in stark contrast with devices like the Nexus 7 and Samsung Galaxy Tab 2 7.0 which bring a more fully functional, vanilla or close to vanilla Android.
In those kinds of face-offs, we dig deeper than pure marketing and look at the raw specs. Which one has the more detailed screen? Which one is lighter, and which battery lasts most? Find the answers to these questions and more in the tables below.