Barclays: Only 11% of consumers willing to pay $1,000 or more for a new iPhone
99+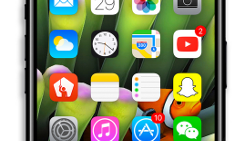 New information sent by Barclay's to its clients, and obtained by CNBC, reveals that the price of the Apple iPhone this year might finally reach a point that turns consumers away. The tenth anniversary model is dubbed the
Apple iPhone 8
, and
early speculation has put a price tag as high as $1,000-$1,200 on the handset
. But the bank's survey shows that only 11% of those who responded to it said that they would pay more than $1,000 cash for an iPhone. Among existing iPhone owners, that 11% rises to 18%.
While the survey numbers don't seem to bode well for iPhone 8 sales, most of those surveyed said that they would be willing to pay up to $48.50 a month on a 12-month installment contract. This means that the iPhone Upgrade Plan, requiring users to make a monthly payment over 12-months and to trade-in their current iPhone to get the latest model, could be a widely used option for consumers looking to buy what will undoubtedly be the most expensive iPhone of all time.
At least for 2017, most of the new features found on the iPhone 8, such as the OLED panel, the edge-to-edge display and facial recognition, will be exclusive to the iPhone 8. Last week, KGI Securities Apple analyst Ming-Chi Kuo said that
only 2 million to 4 million units of the iPhone 8 will be available at launch
. That could lead those desperate for a new iPhone to settle for the
Apple iPhone 7s
or
Apple iPhone 7s Plus
.
One upbeat piece of information released by Barclay's revealed that 85% of survey respondents are okay with shelling out more money for the latest generation smartphone. That means that consumers do have an understanding on how carrier subsidies used to protect them from rising handset prices. With subsidies no longer available, consumers realize that next-gen handsets will cost them more money.
"85 percent of respondents are willing to pay more for the newest generation smartphone device, which could help dispel the bear thesis that very few consumers will purchase a new smartphone without carrier or other subsidies."-Barclays
source:
CNBC