BLU Vivo XL3 makes its debut in the US: Android Oreo, facial recognition and 18:9 display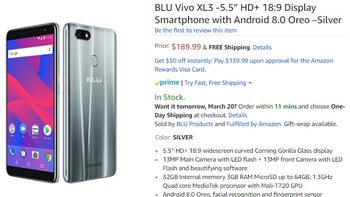 The sequel of the
Vivo XL2
is finally available for purchase in the United States, in case you were looking for a mid-range Oreo-powered smartphone priced at less than $200. Although it packs mid-range specs, the BLU Vivo XL3 promises to offer a premium feel design-wise.
Amazon has the BLU Vivo XL3 smartphone up for purchase for $190 (free shipping included), a decent price for what it has to offer, at least on paper. Before talking about the insides of the handset, it's worth noting that the phone features a metallic finish that incorporates a so-called "electrolyzed metal" effect.
BLU has embraced the
18:9 display trend
a long time ago, so it's no surprise that the Vivo XL3 includes a 5.5-inch HD+ screen with 18:9 aspect ratio. On the inside, the phone packs a 1.3GHz octa-core MediaTek 6737 processor, 3GB RAM and 32GB expandable storage.
As the title says, the Vivo XL3 runs Android 8.0 Oreo right out of the box. Also, it's powered by a decent 3,000 mAh battery and has 13-megapixel cameras on the back and front sides.
On top of that, the smartphone benefits from BLU's new facial recognition technology, which allows users to gain access to their Vivo XL3 phones in a matter of seconds.
BLU Vivo XL3 comes unlocked and it's fully compatible with GSM networks including AT&T, T-Mobile, Cricket, MetroPCS, and Straight Talks.
BLU Vivo XL3