BBM will be smartphones-only when it first comes to Android and iOS
18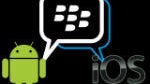 A couple days ago, BlackBerry announced that BlackBerry Messenger will finally be released on Android and iOS this summer, but today BlackBerry is managing expectations a bit. It seems that the company will be focusing its efforts and only bring the app to smartphones when it is first released.
Vivek Bhardwaj, head of the BlackBerry Software Portfolio, told
TrustedReviews
that BBM will not be made available on tablets when it is first launched for Android and iOS. Bhardwaj said, "Smartphone is our real focus and again it comes back to what BBM is. If you look [at] BBM and the engagement and the activity, it's because it is mobile, because people are on the go."
However, he went on to say that bigger screens aren't out of the question, including extra-large screens, saying that "Smart TVs and desktops... are definitely areas for exploration."