BBM is finally coming to iOS and Android; now you really have no reason to buy BlackBerry
56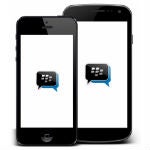 BlackBerry had a pretty big keynote earlier today. The company announced an
update to BlackBerry 10
, a
new device
for emerging markets, and CEO Thorsten Heins finally announced what had been rumored for over a year: BlackBerry Messenger will be coming to iOS and Android this summer.
Heins said that BBM will be going cross-platform with apps coming this summer that will be compatible with iOS 6 and higher, as well as Android 4.0+. This will give the huge user bases of each platform an opportunity to interact with BBM's 60 million users. Heins even said that at this point BBM is processing about 10 billion messages per day, which puts it about on par with
Facebook Messenger
. That should be good news for anyone with friends in developing countries where BlackBerry is still doing well.
However, it does take away one more reason for anyone to purchase BlackBerry hardware. BlackBerry 10 has already had a slow start in many regions, and while the OS is solid, the only real advantages BlackBerry has to hold on to are security and BBM. And, while BBM is a great product, it may not be enough to draw users away from the dominant smartphone platforms.