BBM for Android scores at least 1 million downloads; BBM for iOS is number two at iTunes
21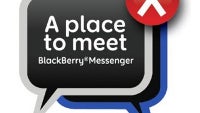 On Monday, the long awaited BBM for iOS and BBM for Android apps
launched from iTunes, Google Play Store, Samsung's app store and BBM.com
. Downloading the app merely allowed you to use your email address to grab a place 'in line' and await your turn to register and activate the application. BlackBerry did not want a rush to activate overwhelming its servers. Those who had pre-registered with BlackBerry were allowed to use the application immediately.
So how much in demand was BBM? According to Google, the best that it could say was that a range between 1 million people and 5 million people had downloaded the app in the first 24 hours. Of the nearly 93,000 who left a comment on the Google Play Store, 69% gave BBM for Android a 5 star rating. The app works on those Android models powered by Android 4.0 or higher.
As for the iOS version of the app, it soared to the number 2 position among free apps available on iTunes. Trailing Bitstrips, an app that allows you to create comic book versions of you and your friends, BBM could still make it to the top once word spreads that the app is available.
source: BBM (
iOS
|
Android
) via
Ubergizmo
UPDATE:
The latest figures now show over 10 million downloads of BBM for iOS and BBM for Android combined in the first 24 hours! That is one of the best first-day numbers ever.
source:
Crackberry