AwesomeDial breathes life in your iPhone contacts, lets you group message them
2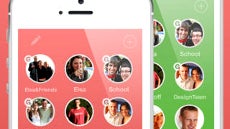 If you think the contact list on your iPhone is boring, don't add a couple of oddballs and celebs just yet, it might be owed to the fact that your peeps are presented as just that - a list.
AwesomeDial is a new kid on the App Store block, and comes to the rescue of your contacts. It presents them with pretty photo bubbles on your speed dial, and sports six different color themes to match your case... or mood. It's the added functionality that matters, though, as AwesomeDial lets you easily create and manage groups of contacts with simple drag&drop.
There is also a smart search option, which finds the one you are looking for after a few keypresses of the name or number. Long press the group icon, and you can quickly send a text message, or shoot an email to the whole group at once. If you are interested in spicing up the contact management on your iPhone, AwesomeDial is worth checking out, though it will cost you, at the tune of 99 cents.