Autocorrect keyboard bar discovered in iOS 5, software tweak enables it
9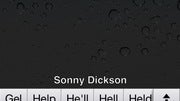 In addition to the
hidden panorama mode in iOS 5
, another secret feature has been exposed by iOS enthusiasts just recently.
An autocorrect keyboard bar
similar to the one found on some Android devices has been discovered, which, as the name implies, can correct (and perhaps complete) words as you type on the virtual keyboard.
Since the autocorrect bar does not come on a factory-fresh iPhone or iPad, it might not be perfect yet. However, if you want to give it a try anyway, there is a way to enable it, and no jailbreak is required for the purpose. Here is how you do that:
Download iBackupBot
Backup your iDevice by using iTunes
Open iBackupBot, find the backup and load it
Find Library/Preferences/com.apple.keyboard.plist and open the file. Press cancel if your software isn't registered and the file will open
Add the following code: KeyboardAutocorrectionListsYES
Save the changes and restore the backup using iBackupBot
However, although it is nice having it, the autocorrect bar is not the most exciting feature that could be possibly added to iOS. On the other hand, the fact that hidden goodies pop-up every once in a while makes you wonder what else Apple has hidden inside its platform.