Australia to ask Apple for iPad name change over 4G incompatibility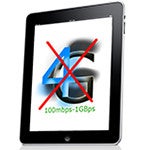 Apple's
new iPad woes
continue down under, as mediation between Cupertino and the Australian Competition and Consumer Commission (ACCC) failed to resolve all the issues of the ACCC. Apple has already agreed to contact all Australian customers and inform them that the new iPad does not work on Australian 4G networks, and to offer refunds if customers wish to return their shiny new tablets.
The ACCC wanted more, apparently asking for a name change; while quasi-official name for the new iPad is…"the new iPad", in Australia much of the marketing refers to the cell-enabled version of the device as the iPad Wifi + 4G. Since the device does not actually have Australian 4G, the ACCC presumably wants it renamed to iPad WiFI + 3G, or something similar.
We're somewhat surprised that Apple would not agree to the ACCC's requests during mediation – the court challenge will likely be more public, and it's hard to see how the ACCC could lose, since they appear to be well within their legal rights to demand a name change to a product.
Apple may be concerned about creating confusion (will people realize that the Australian iPad WiFI + 3G is the same as the +4G model everywhere else?), but Apple has gotten a bit strange lately about 4G marketing – remember the AT&T iPhone 4S is now
marketed as a 4G phone
as well. While Apple demurred on taking credit for that change, indicating that it was up to AT&T (why wasn't it up to AT&T before?), we are beginning to suspect that Apple covets the 4G marketing name – Android phone and tablet makers have been using it as a promotional advantage for almost two years now (remember the original Evo ran on Sprint's "4G" network).
With 4G becoming a battleground word for many of the major networks, is Apple now trying to claim the 4G mantle for marketing purposes? It's hard to say for sure, but apparently they are willing to go to court in Australia to try and prevent a name change to a device that can't actually run on any 4G network down under.
source:
Sydney Morning Herald
via
TechCrunch