Audman's case for the iPhone turns it into an iconic looking Walkman cassette player
4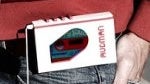 Cases come in all shapes, sizes, and designs, with some being naturally more alluring than others – and every once in a while, there's one that blows the socks off most people. There's no denying the extensive amount of cases available with Apple's beloved iPhone, but this latest one sprinkles a bit of nostalgia for those growing up during the age of
Sony's Walkman
.
Although the cassette player has been considered long dead by now, the
Audman Kickstarter project
is bringing it back in a very big way! Well, that's because their case for the iPhone 4 and 4S turns the equal iconic looking smartphone to Sony's once pride and joy cassette player.
Besides giving the smartphone a good home and protection against the elements, it actually packs its own
built-in speakers
in the rear to give it a stylized appearance and useful functionality. As the smartphone sits within the case, it even features an
internal battery
to charge the phone while on the go.
Additionally, it'll even help in keeping thieves at bay who are looking to snatch the phone from your pockets seeing they probably wouldn't want to pick up something that looks as though it came straight from the 1980s. Most of all, it's a very different looking case for the iPhone and it seemingly blends with the Walkman's style perfectly.
If you're interested in picking up this hip looking case, just expect to shell out
$125
to buy it – though, custom versions can go up to $1,000. Well, if you don't feel like spending $125 for it, you can opt to choose the $35 model that omits the fancy electronics and is nothing more than a standard protective case.
source:
Audman Kickstarter
via
CNET
Recommended Stories