Attention! HTC is on the hunt for a Spanish biker that saved CEO Peter Chou from being late for MWC
16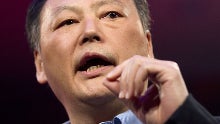 HTC CEO Peter Chou is desperately trying to find a certain Spanish biker, who made him a giant favor on the first day of the MWC, and compensate him for the good deed. Why, exactly?
In the early morning of February 24, Peter Chou was riding a taxi on his way to the Fira Barcelona exposition center, where the MWC took place. Unfortunately, the cab got stuck in traffic. The CEO of HTC had an important appointment and could not afford to run late. Fortunately, Peter Chou spotted a motorcyclist, riding a small green scooter, who passed by the stationary cab. As his time was running out, the CEO had no other option but to ask the taxi driver to honk at the biker. The latter immediately pulled over and agreed to drop off Peter Chou at the exposition center right away.
The Honda Scoopy made its way through the labyrinth of vehicles and, eventually, the duo arrived at Chou's final destination. The CEO offered the biker cash in order to make up for the favor, however, the Spanish man kindly declined and urged Chou to hurry up for his appointment. Then he swiftly drove off.
The touched Peter Chou is trying to find the good Spanish lad, who has a "heart the size of a tropical pineapple". A brief desciption of the good samaritan was posted on HTC's blog.
"The information we have is that he [the motorcyclist] is a good-looking man, 45-50 years old, riding a Green Honda Scoopy with a yellow plate. The adventure started at 8:24 in the morning, as Peter Chou stopped the motorcyclist and finished at 8:35 as they arrived to the exact entry of the fair. If you have any information that may lead us to him, you are already taking too long to contact us! Or if you prefer, you may send us an email toinfo@htc-one.es."
source:
HTC
via
AndroidCentral