At $22 800, the new Vertu for Bentley edition is a true match for your Mulsanne Speed
15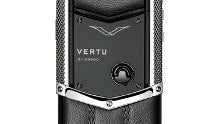 Remember the
"Vertu for Bentley"
luxury Android smartphone we told you about back in October? Well, the fruitful collaboration between the two upscale manufacturers has churned out its second brainchild, this time an even more expensive one. Called "Vertu Signature for Bentley," it will be released on September 18th, but will make a number of cameos at various posh events beforehand.
This special Vertu Signature edition is inspired by the insane Bentley Mulsanne Speed flagship of the luxury card brand, and has the exterior to match, with stainless steel chassis, Beluga Black calf leather wrapping, and sapphire/titanium logo beneath the keypad. Given the number pad and smallish screen, this doesn't look like it will be a smartphone, which might be a plus for the privacy-oriented jetsetting crowd.
While the exact specs aren't listed, you can apparently use a made-to-order configurator with over two thousands combo versions. The Vertu Signature can come with your choice of leather and other elements to best match your Bentley car interior, for instance. The available leather and stitching hues carry sophisticated names like Hotspur, Beluga, Linen, Newmarket tan, Burnt Oak, Fireglow, Imperial Blue or Saddle, and are actually existing interiors in this luxury cars series. The price? Well, it can all be yours for the princely sum of about £14,500 ($22,800), and the phone maker says it will throw in a sapphire glass screen and exemplary sound quality for free. At this price, the
leather LG G4
is starting to look like a
real steal
. Any takers?