Asus: you could buy 6 ZenFones instead of one iPhone 6
21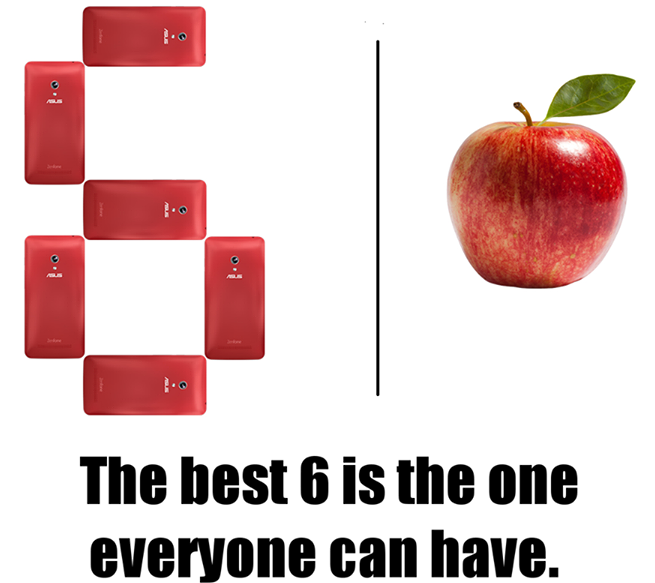 iPhones have always been expensive. Thus, no one was surprised yesterday, when Apple announced prices for its new
iPhone 6
and
iPhone 6 Plus
. Off-contract, the 4.7-inch model will start at $649, while the 5.5-inch iPhone 6 Plus will start at $749.
Obviously, many customers around the world won't be able to afford an iPhone 6. But that's where other manufacturers come in.
Take Asus, for example, which today reminded users that they could buy 6 Android-based ZenFone handsets for the price of just one iPhone 6. The company posted the image that you're seeing on the left on Facebook, alongside this question: "Which 6 is better - six ZenFones for the whole family, or one apple for yourself?"
Asus currently offers three different ZenFone models (a
4-inch
, a 5-inch, and a
6-inch one
) for prices starting at just a bit over $100. Sure enough, the ZenFones aren't flagship devices. And yet the
ZenFone 5
is somewhat comparable to the 4.7-inch iPhone 6, as its features include a 5-inch display with 720 x 1280 pixels, dual-core 2.0 GHz Intel Atom Z2580 processor, 2 GB of RAM, 8 MP rear camera, and 8 GB of expandable internal memory. All in all, Asus' ZenFones are certainly worth a look if you don't intend to spend too much money on your next smartphone.