Asus announces unnamed 7" Tegra 3 tablet for $249
13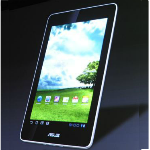 This is kind of a strange announcement. We have all been waiting on the announcement of the pricing for the Asus Eee Pad MeMO, which is a 7" Android Ice Cream Sandwich tablet. We got the
specs and release window earlier
, but never got the pricing. Then, during the NVIDIA press conference at about 4:45 PM PST, President and CEO of Asus Jen-Hsun Huang, announced the pricing of a 7" Asus tablet, but not the MeMO.
This tablet will be 7" and running Android Ice Cream Sandwich, like the MeMO, but unlike the MeMO, which has a dual-core snapdragon, this tablet will be packing a quad-core Tegra 3. There was no release date announced, but Huang did say the tablet will be just $249. If the tablet can hit the market by June, it will also make true Huang's
prediction from November
that Tegra 3 tablets would be under $300 within "a couple quarters".