Asus Zenfone 2 now has a budget $229 option with 4GB of RAM
25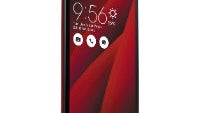 The battle of the entry-level devices has been heating up for Android manufacturers and Asus wants to stake its claim in that market. The original Asus Zenfore 2 was a okay option at $199 compared to other phones in the category, but Asus wants to make the device a bit more appealing by adding a new option that doubles the RAM of the original and only costs $229.
This means that rather than the base option Zenfone 2 which offers 2GB of RAM and 16GB of storage for $199, you can get 4GB of RAM and the same storage for $229. Originally, the only way to get 4GB of RAM in the Zenfone 2 was to opt for the 64GB storage level and pay $299. Of course, you'll still be getting the Intel Atom processor either way, plus a 5.5-inch, 1920 x 1080 display, Bluetooth 4.0, 4G LTE, dual SIM card slots, a microSDXC card reader, a 13-megapixel rear camera, and a 5-megapixel front camera.
In terms of pricing, Asus appears to be aiming to take another step beyond the Moto G, which has an option at $219 for 16GB of storage and 2GB of RAM. Even with 2GB of RAM, the Zenfone 2 beat the Moto G in our benchmarks, so this makes the decision a bit more interesting.