Asus Transformer Prime Sleeve is an origami-inspired cover for the first quad-core tablet
2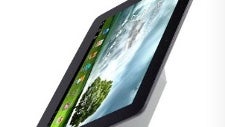 The
Asus Transformer Prime
is not just another Android tablet - it's the very first to run on the quad-core Nvidia Tegra 3 with generally positive reviews from all across the tech world. It's got the optional keyboard dock which doubles the battery life on the 10.1-incher, so it's looking pretty solid in terms of accessories. And even more so with this origami-inspired case - the Asus Eee Pad Transformer Prime Sleeve.
Does it borrow from the iPad 2 Smart Cover? Well, the Sleeve doubles as a stand so it delivers a similar functionality, but folds in a different way. There seems to be some resemblance, but it's up to you to decide whether this makes the cover a blind copy, an original concept or is it somewhere in between.
The Transformer Prime Sleeve comes with a price tag of $39 (or 39 euro) and will fill the two slots used to fit the keyboard dock. It protects only the screen, but probably that should suffice for most of you. Check out the video demonstration below and let us know if you think a cover is a must-have for your tablet or not.
Recommended Stories