Asus New Transformer Pad TF701T hands-on
14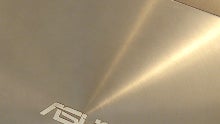 Asus made its
New Transformer Pad TF701T
official at IFA 2013, the first slate announced with a 1.9 GHz
Tegra 4
processor, and we managed to get a brief hands-on time with the device.
Specs
Tegra 4 is touted it as the world's fastest quad-core Cortex-A15 processor with 72-core GPU. In addition, you get 2 GB of RAM and 32GB or 64GB onboard storage with microSD (tablet), and SD (dock) card slots for memory expansion.
That is not the only high-end component of the tablet, though - it has a luminant 10.1" 2560x1600 pixels (300ppi) display of
Sharp's IGZO
variety, and we can attest this panel tech is everything it's touted to be - bright screen with wide viewing angles, allowing ultra high resolutions with very low power consumption.
Design
Despite the premium metallic chassis, the tablet sports just 585g of weight, though the load on your wrist becomes more significant with the keyboard dock attached, while the 263 x 180.8 x 8.9 mm dimensions are a bit on the thicker side this day and age of sub-8mm slates. The dock sports a separate battery pack, with which the tablet can last up to 17 hours overall, a very good achievement, and a testament to the frugality of the IGZO display tech.

The key travel is a bit shallow and mushy as is very often the case with these docks, but the touchpad is rather responsive, and this time you get a fast USB 3.0 port, plus the powerful processor allows for a cool 4K video output via the HDMI port, so no complaints. A 5 MP camera is etched pretty in the metallic back and the whole New Transformer Pad exudes a cool, premium feeling when you hold it in your hands.
The tablet is scheduled to arrive this quarter, at around a $399 price tag, and the keyboard dock will run you a Benjamin extra if you want it, which is a pretty reasonable pricing scheme for the top-shelf components of this Android 4.2 slate.