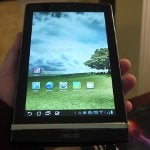 Asus had a couple of new devices to show off at their booth inside of the Trump Hotel, so we decided to head on over there and check them out, one of which is a tablet they are calling the
MeMO 171
.
The Asus MeMO 171 is a
7-inch Android Honeycomb tablet
that should get updated to ICS in the future. As it stands now, the MeMO 171 is destined for Europe and there is no word on a potential US release. It is pretty thin and not too heavy. Asus seems to have done a good job with the overall build quality.
We must say that we like what we see with the MeMO 171. The display is gorgeous. It
features an IPS+ pane
l that helped deliver rich, vibrant colors. Text was sharp and easy to ready and the
178 degree viewing angle
that Asus is touting was impressive. The display is simply top-notch from every aspect.
Powering the tablet is a Qualcomm
dual-core 1.2GHz processor and 1GB of low-power DDR2 RAM
. We found the MeMO 171's performance to be great and very responsive. Scrolling between screens and menus as well as opening and closing apps was handled admirably. There wasn't an instance where the tablet had to stop and think what it was doing and frankly that is how it should be this day and age. Surely a quad-core would make the experience even better, but we can't complain.
The MeMO 171
has two cameras
; a rear-facing 5 megapixel shooter, auto-focus shooter and a front-facing 1.2 megapixel shooter. Also included in the package is
16GB of internal memory
and Asus is even including a free 8GB of web-based storage. Not a bad deal, right?
Overall our first impression of the MeMO 171 is a good one. We really enjoyed our time with it and are a bit saddened to know
it may never find its way to the states
. Nevertheless, there is another tablet up Asus' sleeve that will be arriving on US shores, but that is another hands-on entirely. Check out the pics, vids and tell us what you think of the Asus MeMO 171.