As Windows shrinks, Android and iOS grow to overtake it
54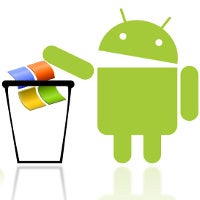 Microsoft's operating system that once dominated sales with no clear competition in sight is now in the position of the underdog as Google's Android and Apple's iOS devices are each outselling Windows-based products, according to the latest Goldman Sachs analysis.
And that's not a huge surprise as smartphones and tablets are getting in everyone's pockets. The share of Windows PCs has dropped to 29% of all Internet-connected devices, while smartphones and tablets grab a dominating 66%.
"The compute landscape has undergone a dramatic transformation over the last decade with consumers responsible for the massive market realignment. While PCs were the primary Internet connected device in 2000 (139mn shipped that year), today they represent just 29% of all Internet connected devices (1.2bn devices to ship in 2012), while smartphones and tablets comprise 66% of the total. Further, although Microsoft was the leading OS provider for compute devices in 2000 at 97% share, today the consumer compute market (1.07bn devices) is led by Android at 42% share, followed by Apple at 24%, Microsoft at 20% and other vendors at 14%," Goldman Sachs claims.
More than that, Microsoft is facing an
"uphill battle,"
even if it wants to regain its share.
The trend emerged earlier and bore fruits in Q4 2010 when smartphones and tablets started outselling PCs for the first time.
Goldman Sachs has some interesting but somewhat strange estimates about how the market will evolve in the next few years, claiming that Android's market share will actually begin to dwindle, while Apple and Microsoft will grow their markets. That is obviously not happening right now, actually the opposite is true - Android is rapidly expanding its reach, so it would be interesting to see how that plays out.
With
1.3
million daily activations and with an installed base of over 480 million, Android alone is expected to outgrow Windows' installed base over the next couple of years.
To reverse that trend Microsoft will really need some breakaway hit with a tablet like the Surface, but could that really happen? Let us know your thoughts in the comments below.
source:
ZDNet