As Chinese wages rise, Samsung looking to replace human labor with robots
23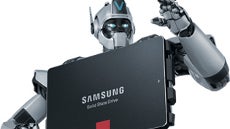 Robots. We all love them, right? Well, would you love them if the buggers are taking your job on the conveyor belt? That's exactly what might be happening in Samsung's factories, where rising wages of Chinese workers are forcing its hand to switch to robotics for its assembly and other production needs.
Korea's government is fronting Samsung $15 million to develop and produce in-house the types of robots needed to replace human labor in the production process. We say in-house, as the government has concluded that not only is more expensive to import such machines, but also it wants the country to become a robotics powerhouse - a place long occupied by neighboring Japan.
The whole project of replacing some of the ever-more-expensive Chinese labor with robots in Samsung's factories should be finished by 2018. As per the Korean Minister of Trade and Industry: "
Once affordable robots reach the market and are more widely used, it can lead to the creation of 'smart factories' and bring about far-reaching innovations to the manufacturing sector.
"