Argentina bans the sale of the Apple iPhone and BlackBerry models temporarily
25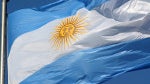 Apple iPhone
and
BlackBerry
fans might be crying over Argentina tonight as the country has
instituted a ban on the sale of foreign-made smartphones
. This includes the Apple iPhone and all BlackBerry handsets. The pair make up 60% of the smartphone market in the country. Argentina says it is taking the action to stabilize what has been a poor economy.
Some other handset makers like
Samsung
,
Nokia
,
Motorola
and
LG
are still allowed to sell their products in Argentina since they all have opened plants in the country. Apple and RIM can avoid the ban by building a factory in the country or by finding a partner that is free to sell its products in Argentina. Word is that RIM is looking for a partner while Apple appears to be sitting the ban out alone.
Earlier this year, the country added a 20.48% tax on imported electronics, on top of the regular 21% tax that is charged. Argentina has been twisting the screws on both companies since early this year. In March, the country
revoked the "automatic" import license
of some smartphones, which forced Apple and RIM to wait as long as 3 months for Customs Authority approval for any new devices.
Once the economy improves and becomes stable, Argentina says it will remove the ban although some of the measures taken by the country to improve the economy have been in place since 2009. Despite the ban, Apple's
Argentinian iPhone page is still up
and the company introduced a full iTunes store in the country. Argentina's GDP has been shrinking as the government has been paying large subsidies to farmers.
source:
Manuals.ws
via
electronista