Are you excited about Android 6.0 Marshmallow?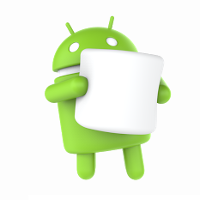 With a little over 24 hours left until Google is expected to get up on a stage and announce the widely rumored new Nexus phones, it's fair to say that our attention has been focused on the upcoming hardware. From what we know already, both devices ought to be worthy of your consideration come the holiday season. But what we suspect fewer people realize, is that the official roll-out of Android 6.0 Marshmallow is also about to begin.
Word on the street is that Google will initiate the over-the-air process as early as October 5th, starting with the 2014 Nexus 5 and Nexus 6. The two new Nexi — the 5X and 6P — will have the new goods loaded out of the box. Assuming similar speeds in delivering the new software to other, non-Google devices, we should start seeing Marshmallow on a select few devices by the end of the year.
Despite being labeled as a major update, however, our reading of the community on Marshmallow is that folks aren't exactly ecstatic about the prospect of getting the upgrade. We won't try to sway you before you vote, of course, but
you can skim through some of the key improvements packed within
. Do you reckon these are enough to get excited about? Or are you unimpressed with this year's update?