Are you considering any of Amazon's new, dirt-cheap tablets?
56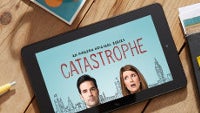 Unveiled last week, the trio of new Amazon tablets — from a 7-incher all the way up to a big, 10.1-inch slate — are now available to purchase in the US. Following in the footsteps of the Fire HD line, the new tabs are meant to try and meet demand for affordable, but well-constructed slates, with pricing ranging from just $49.99 for the 7-inch Fire, all the way up to $229.99 for the 10.1-incher.
As you can imagine given the price, the specs sheet doesn't read like something out of this world, and is largely similar with a few exceptions like the camera, display resolution, and processor clock speeds. And while these tabs don't really have a shot at rock start status, they do offer great value for the money. There's one catch, however, and it's a biggie.
Like all Amazon hardware products, the new lineup comes with Fire OS (version 5 Bellini), which is a "fork" of Android. In simpler terms, this means that while the core, open-source code is being utilized, there's none of Google's defining layer of apps and features. So no Play Store, no Google Music, and no Google Maps — at least not right off the bat. Instead, you'll be making use of Amazon's on app store, which isn't necessarily bad (a ton of special offers there), but can't at all compare with what Google has going on. With that in mind, this begs the question...
Are you considering any of Amazon's new tablets?