Are Google ads costing you money?
25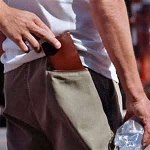 No, this is not another Microsoft "Scroogled" campaign belying the contention of Google's practice of paid advertisers getting the top shopping search results.
However, Microsoft's campaign was trying to drive home a point which may prove relevant to those that do not pay attention to what they search for on the internet. Granted, Google is the search engine of choice, and that top spot is largely deserved. Like any company however, the goal is to make money, and Google, even with all its "free" stuff, makes a ton of money.
That money is made through advertising. Not just through Google Ads that appear on various web-sites, but also through search rankings, both in the shopping section, and in the general search. It is a common practice, companies pay to be at the top of the search rankings so they attract the most customers. We all know this.
However, if you are not paying attention, it might just cost you. A woman named Laura (not her real name) was in a hurry to pay London's "congestion charge" which is a fee charged to vehicles that operate within the city's Congestion Charge Zone. The common fee is £10 ($15) per day by the government's official TfL (Transport for London).
Laura was in a rush, went to Google, searched for information to pay the congestion fee and clicked on the first site she saw and paid the charge, but instead of paying £10, she paid £15 ($23). The government got its £10, but the 50% premium was pocketed by londoncongestion.com which pays Google to be a top listed search result and happened to be the site Laura selected after executing her search. The fact that londoncongestion.com makes it pretty clear at the top of its page that it is not affiliated with TfL is another story, but still relevant to paying attention in general.
TfL, to its credit, has been working with the search engines about unofficial sites, but Google has not been responsive (whereas it looks like Yahoo! and Bing have complied with the requests). The moral of the story is to pay close attention when you hit that search button on your device, whether it is linking you up with Yahoo!, Bing, Google, or anywhere, if you miss a detail, it might cost you hard earned money.
source:
The Guardian