Archos announces GamePad tablet with physical controls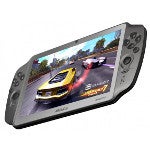 There have been some (mostly unpopular) manufacturers recently who've announced to be working on a gaming tablet, and Archos has just joined the party with its own GamePad - a tablet with dedicated physical game controls.
The Archos GamePad seems to be a fairly slim device with game controls symmetrically positioned on the sides of the 7" display of unknown type and resolution. The tablet looks pretty good, but its gaming-centric design practically destines it to be a dedicated gaming device with additional features.
The processor powering the thing will be a 1.5GHz dual-core unit (also of unannounced make), coupled with a Mali-400 GPU, which should provide enough punch for smooth framerates in those mobile games.
The Archos GamePad is expected to go on sale sometime in the end of October, for the affordable price of EUR 150 (about $188) in Europe. There's no word yet if it'll be available in the States, but if you really want it, we're sure you'll find a way to have it.
via:
SlashGear