Apple's tablet to be named iSlate; device to be introduced January 26th?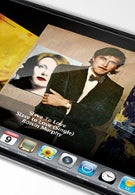 The Financial Times has reported that Apple has booked the Yerba Buena Center of the Arts in San Francisco for several dates in late January. A FT source says that Apple will introduce a new product on January 26th which meets the qualifications of late January. The New York Times, talking to past and current Apple employees, says that the current version of an Apple Tablet has "hit the sweet spot" and that Steve Jobs is "extremely happy with the new tablet." A recently departed Apple employee added that the way users interact with the device will be very surprising. That could relate to the recently
reported
story about two Apple patent applications relating to tactile feedback keyboard. And as the speculation grows and spreads like wildfire, we can tell you that the fever pitch will rise as we head toward the end of 2010's first month and more and more stories, pictures and perhaps even video will appear. For now, we have to be satisfied with some good detective work. Keep checking in for the latest as the first big story of 2010 starts to develop at the end of 2009.
source:
NYTimes
,
FinancialTimes
via
BGR