Apple's new NFC payment system thought to be dubbed iPay, is primed for success
60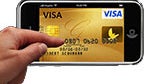 Despite Apple's penchant for secrecy, it has become widely presumed that the new iPhone (which, given the nomenclature of the most recent iPad, may actually be named "the new iPhone") will come equipped with Near Field Communication (NFC) support. JP Morgan analyst Mark Moskowitz believes that Apple will use the next iPhone launch to roll out a digital payments solution which he expects to be called iPay.
Mr. Moskowitz isn't going too far out on a limb here;
Apple has been working on NFC payments since at least 2010
, when it
hired Benjamin Vigier
, a veteran of the successful adoption of NFC in Japan. Apple in fact coined the term iPay in a series of patents they filed that describe "a comprehensive mobile payments, mobile commerce and mobile marketing business based around an NFC-enabled iPhone." They may face a trademark conflict with the
similarly named
online bill-paying company, but that's
never stopped Apple before
.
For the 250 million customers with credit cards already entered in
iTunes
Apple can make it one-click-simple to add their cards to an iPay system
, which should help speed up adoption. One potential roadblock would be if any of the carriers backing ISIS attempt to thwart Apple the way
Verizon
kept Google Wallet off of their version of the Galaxy Nexus. We expect there will be some posturing behind closed doors, but Apple has generally had more success pushing the carriers around rather than vice versa.
Mobile payments is one area where Apple can really benefit from their vertical market position of having one phone that sells well, rather than Android's horizontal market positioning of lots of different phones that cumulatively sell well – a blockbuster iPhone 5 will mean lots of NFC-equipped iOS devices in a short period of time, quickly making up any lost ground in terms of NFC adoption. Within a quarter or two of launching an NFC-equipped iPhone Apple will probably have more iPay-equipped phones than any competing digital wallet system (outside of Japan, anyways).
Will iPhone users flock to iPay, or will there be pushback against the adoption of mobile payments? That will depend on how well Apple implements their iPay system, and how well they market it to customers. Marketing to the faithful has been one of Apple's strengths, so if they can leverage Mr. Vigier's success at creating popular NFC solutions, they have every chance of leaping to the forefront of mobile payments.
source:
Redmond Pie