Apple's marketing guru Phil Schiller goes under Bloomberg's profiling microscope
2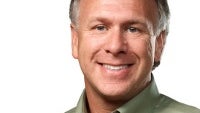 Apple's senior vice president of marketing Phil Schiller is one name you've been hearing more and more after the passing of Steve Jobs - the executive stood in the spotlight for the iPhone 4S launch, and apart from chief executive Tim Cook looks like one of the people to inherit most of the responsibilities and pressue from Jobs.
Now, Schiller gets a detailed profile over at Bloomberg, but while Apple didn't allow any direct questions to pass through to the marketing guru, there's a lot to be read about him from his previous appearances and people in the know.
First thing you probably already know about the Apple marketing SVP is his cheerful personality. Often accompanying Jobs at demos and ready with either a joke or a silly face to make the audience laugh, he is probably Apple's best "people" person. And here's a concise description of the offstage personality and work Schiller does:
Offstage, Schiller wasn't a clown but one of Jobs's most trusted, influential lieutenants. He helped Apple's late CEO work through the meat-and-potatoes of creating new products: Defining target markets, determining technical specs, setting prices. It was Schiller who came up with the spin-wheel interface on the original iPod, and he was a champion of the iPad when other executives questioned its potential. "Because Phil's title is marketing, people believe he's focused on what's on the billboards," says Gene Munster, an analyst with Piper Jaffray (PJC). "He's much more important than people give him credit for."
He's also known as Dr. No for his discipline and high bar for new ideas, and that's something that makes him similar to Steve Jobs. Those comparisons, like them or not are inevitable. Check out the full profile of Phil Schiller over at the source and don't forget to take a look at a couple of funny on-stage moments with him, all below.