The 'hotplate' iPhone 11 defies Steve Jobs' minimalism, but the new 'Cube' is its epitome
6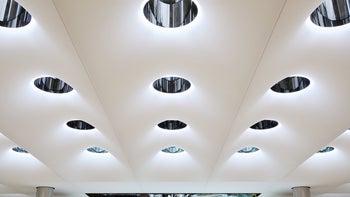 Just in time for the grand
iPhone 11
day, Apple unveiled its completely overhauled legendary store at Fifth Avenue. The flagship place, known as the New York landmark the Cube, has kept its glass walls, but doubled the interior space, introduced high ceilings with more natural light, and is now the epitome of everything Apple stands for.
It's also the only place you can get your iPhone serviced, or buy a new one 24 hours a day, 365 days a year. The Genius counters have been doubled for those who complained that service at Apple Stores is getting slow.
To celebrate New York's creative spirit, Apple is kicking off a special Today at Apple series tomorrow in the new Forum with square seats (what else). Back in 2006, it was Steve Jobs who greeted the first customer that came through the glass doors.
A floating glass cylinder in the middle of the giant store is being supported by a new stainless steel staircase, and if you are in New York today, you can pop up to have a look at Apple's minimalist philosophy personified. If not by the triple-camera
iPhone 11 Pro
, then by the Cube on Fifth Avenue.