Apple's iPhone 6s announcement on September 9 will be streamed live on Windows, too
14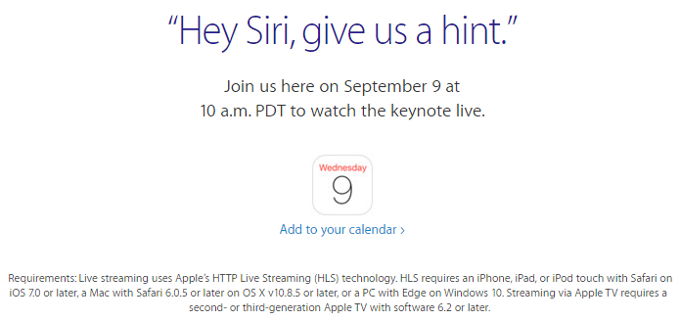 Brace yourselves, Windows users, as you will be able to watch
Apple's September 9th event
streamed live on Microsoft's platform at long last, or so says Apple's official page inviting us for the festivities. The kicker is that the new Edge browser that comes with Windows 10 supports the same HTTP Live Streaming technology found in Apple's QuickTime software, or the Safari browser. No more VLC shenanigans, pseudo streaming sites, or borrowing an Apple device to watch it.
Well, you do have to have Windows 10 on your machine, but given that Microsoft is updating your aging OS to Win 10 for free, this is not hard to achieve. The September 9th event will begin at 10 a.m. PT, and Apple is expected to announce an
iPhone 6s
and
6s Plus
, as well as eventually iPhone 6c and iPad Pro, plus a new version of the Apple TV puck and accompanying services.