Apple's iOS 8.4 adoption numbers hit 40% eight days after release
16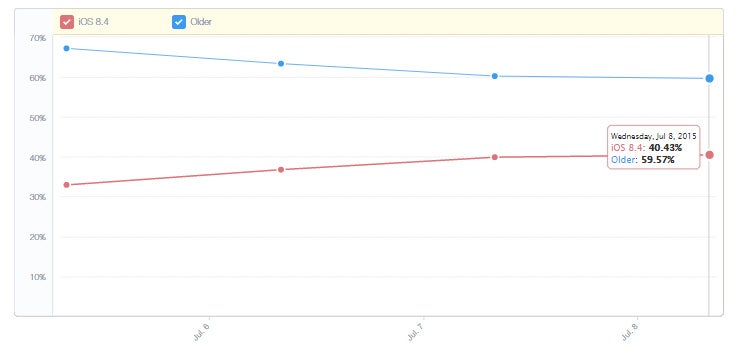 The latest official update to Apple's iOS, iOS 8.4, was unleashed onto the world 8 days ago (June 30), and while it was mostly a maintenance, bug-fixing update, it also introduced the Apple Music music-streaming service for all devices eligible to receive the OS update. Normally, when Apple pushes a new software update for its devices, a large portion of them all are already rocking it shortly after.
It seems that this is the case with iOS 8.4, which won't be the black sheep in the family. Just 8 days after the non-major OS update was released, it's now powering more than 40% of all active iDevices. As a reminder, all iPhone models spanning back to (and including) the iPhone 4s are eligible for the incremental software refreshment.
This data derives from MixPanel's data regarding the Apple Music adoption. Since Apple Music comes with iOS 8.4, it's logical to deduce that the adoption rates are correlated.
What does this mean for the likes of Spotify that also offer music-streaming services (Rdio, Deezer, Pandord, Google Play Music)? Well, it generally means that the potential subscriber pool for Apple Music is growing pretty fast, which could force them to declare DEFCON 1.
source:
MixPanel
via
MacNN
Recommended Stories