Apple's iOS 8 may feature a Healthbook app, iWatch rumored again to have health-related functions
9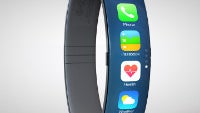 Whether or not Apple is going to launch a smart watch dubbed
iWatch
this year, the Cupertino company will almost surely unveil a new iOS version, likely called iOS 8.
According to 9to5mac and sources familiar with Apple's plans, one of iOS 8's headline features could be health and fitness tracking integration. Reportedly, the new version of Apple's operating system will include an application currently codenamed Healthbook. It's said that Healthbook is visually similar to Apple's Passbook app, its interface resembling a stack of cards that users can conveniently swipe between. The Healthbook app should be able to monitor your vital signs, including heart rate, blood pressure, hydration levels, and possibly also glucose levels. It should also be great for fitness, tracking calories burned, miles walked, steps taken and so on.
While Apple is seemingly working on this app, 9to5mac notes that it may ultimately decide not to include it in iOS 8.
New apps aside, it's said that iOS 8 - codenamed Okemo - won't be too different from iOS 7 design-wise, although "minor enhancements" should be expected.
As for
the rumored iWatch
, it's said that this would be used by the Healthbook app (and iOS 8 in general) to collect some of the data needed. Thus, the Apple smart watch should include sensors capable of measuring heart rate, blood pressure and other vital signs. Another "focal point for the iWatch" should be mapping functionality. Apparently, the smart watch will be heavily dependent on the iPhone.
We are hearing that
Apple may announce two new iPhones
this year, both coming with larger displays than the current iPhone 5S and iPhone 5C models. Will the iWatch join them in Apple's 2014 lineup of new iOS devices? Only time can tell.
source:
9to5mac
Recommended Stories